Welcome to the RafflesNow fundraising platform, which provides charities an efficient 50/50 raffling tool. RafflesNow is fully-automated, simple, secure & readily scalable, so that you can attract new donors on an exponential level. Your 50/50 raffles can be managed simultaneously from both the web and mobile apps (iOS – Android) and the same is available for donors. By implementing our "best fundraising tips & practices", you can be up and running your own 50/50 raffle, raising funds for your cause and creating an experience for your donors in just a few minutes. 
BEST FUNDRAISING TIPS & PRACTICES
IMAGERY
As with any event, imagery is essential. During set-up you'll be prompted to add two images. One for your organization and then one for the specific raffle. Be sure to crop them accordingly and of course, ensure they have good resolution.
DESCRIPTION
Just as with imagery, it's important to express who you are and what your event is all about. Remember, there will be potential donors on the platform coming from other charities and marketing efforts that have never heard of your organization, so let them know what you're all about!
RAFFLE LENGTH & RECURRANCE
One advantage of using RafflesNow is that you can customize your 50/50 raffle to meet the needs of both a stand alone fundraising event or to work in conjunction with an existing one.

Stand Alone Events:

Consider utilizing the recurring feature that lets you run raffles every week or every month! Additionally, you can host a single 50/50 raffle event that runs for up to a year.

In Conjunction with an Event:

We suggest launching your 50/50 raffle days or even weeks leading up to the actual, on-premise event. This allows you to promote both the raffle & your event simultaneously to ultimately gain more awareness and raise more funds.

PROMOTING YOUR RAFFLE


Once you've set up your 50/50 raffle, you'll be provided sharing links that you can add to all of your online communications and social platforms. For on-premise events, we also provide a QR Code that directs donors to your raffle page. 

Where to share the link:

Emails, newsletters, social media, texts, PR, blog, website and anywhere digital.

Ideas for the QR Code:

For events, include the QR code at the sign-in table, along side silent auctions, at the bar, on the bathroom doors, in any hand out materials.

QR codes can also be used if you have foot traffic and are hosting a virtual raffle. Post it on doors, handouts, and anywhere your community congregates.
We wish you the best on your 50/50 raffle and please don't hesitate to reach out to us with any questions.
Additionally,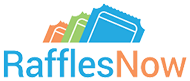 Do Good. Have Fun.