Welcome to the future of fundraising! With the RafflesNow App, you will be conveniently hosting your own 50-50 raffles or browsing them in no time. It's fast, simple, exciting, and easy!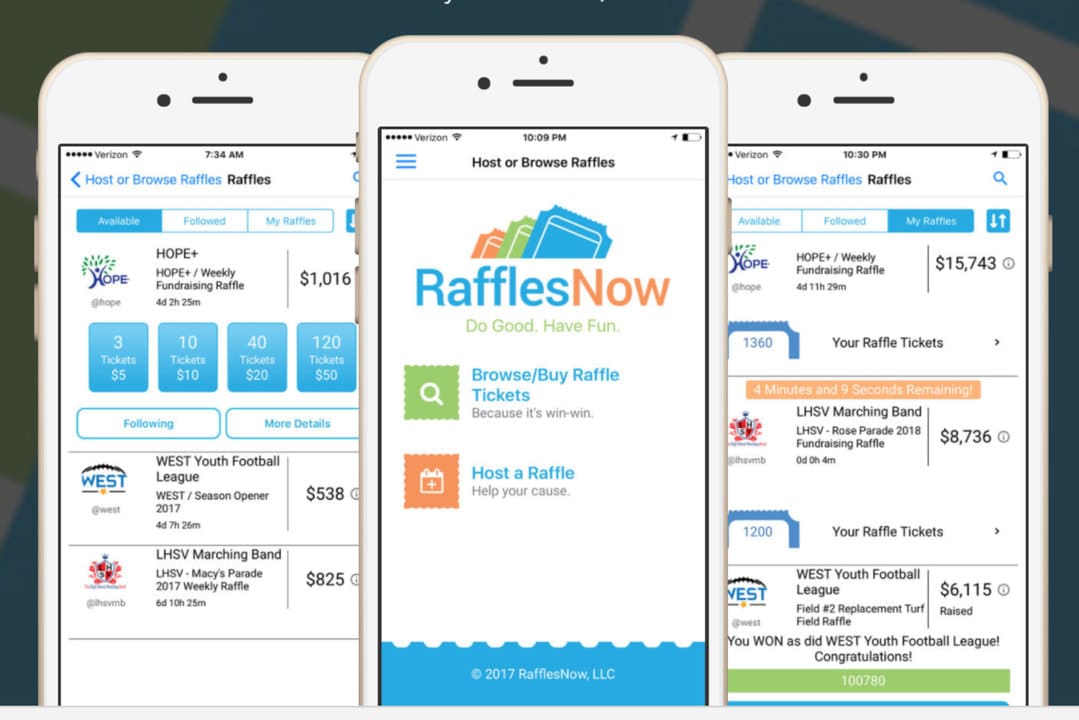 ​
---
"Now you can raffle from the palm of your hand!"
The all-new RafflesNow mobile app empowers non-profit organizations and individuals with the ability to easily host and participate in 50/50 raffles all from the convenience of their smartphone. A 50:50 Raffle is a fundraiser where upon completion of the raffle, half of the net proceeds are given to the charity that hosted the fundraiser and half is given to the winner.
"Everybody loves a chance to win.
Why not do some good at the same time."
This is more than an app. This is a fully automated turnkey fundraising solution that utilizes raffling in a highly effective manner. You can use the RafflesNow platform as a mainstream means of fundraising and/or simply use it to supplement your existing fundraising….a campaign within a campaign if you will.
The RafflesNow app is well thought out and feature rich. It takes only 90 seconds to set up an account, and the same to host a raffle. Once the raffle is setup, you can conveniently and easily SHARE them with friends, family, and associates. To participate in a raffle is even faster! Once a raffle completes a winner is picked and a payment is promptly sent to the winner and the host organization…all seamlessly, and automatically! No fuss, and/or any heavy lifting required.
"Raffles meets Mobile! A new way of thinking.
It's a new day for Raffling!"
With RafflesNow, one notable amazing feature is the fact that one does not need to be present to participate in raffles. 
This is powerful and very compelling!
"With RafflesNow it's a Win-Win for all!"
If you're a non-profit, 501(c)(3), charity, school, college, youth sports organization, church, a veterans group, or other…this is a must have app! If you're an individual that supports, engages with and/or engages with and/or is passionate about…then this is a must-have app for you as well!
"Say goodbye to those rolls of paper tickets, armies of volunteers, and say hello to RafflesNow!"
Regardless of if you're a raffle host, or a raffle participant this single app caters to both. With this powerful app you will be hosting and/or participating in live raffles in minutes!