Planning a charity event is still one of the most effective ways to raise money for nonprofits. Not only do they lead to more charitable donations, but they help foster community and allow guests and planners to make connections with like-minded people. It also raises awareness for your cause, so people are more likely to keep the donations coming long after the event is over.
Plus giving money to charity or nonprofit has proven psychological benefits – to summarize, giving feels good!
But planning a great charity fundraising event can be a daunting task, so a little help and some positive planning goes a long way.
Here are our top tips about what to consider when you are planning your next charity event, whether it is the grandest of gala's or a high school football game.
1. Plan the charity event planning
For large fundraising events, it isn't enough to start planning the week (or month) before. The first step is to ensure you have enough resources and staff who can dedicate time to planning the charity event. In other words, you have to plan the charity event planning itself!
This can be as simple as setting up a planning committee of staff and volunteers, including board members, and working out how much time per week they will be able to dedicate to planning the event.
Once this is set up, this committee can decide to have subcommittees, or ensure they have the mechanisms to plan:
Charity event finance and budget
Speakers and entertainment
Food, venue and drinks
Ticket sales and registration
2. Setting up realistic and aligned fundraising goals
The most important thing is to get aligned on your fundraising goals. What does this charity event need to achieve? This will guide all the rest of your decisions, including choices such as venues, food and drink provisions, and even ticketing platform.
Fundraising goal: How much do you want to the charity to raise? It's important to be realistic here, otherwise, you are setting yourself up for failure. It's a good idea to have a main target and a stretch target to allow some flexibility. And don't forget to ensure this is a reasonable goal after expenses for the fundraiser has been deducted.
Decide on the best type of charity event: If your goal is to attract big donations, it might be worth holding a more upscale gala-style event (tuxedos and gowns, anyone?) But if you want to build community and get students involved with fundraising activities, something like a school fundraiser probably makes more sense than a fancy ball.
Making smarter choices: For example, if you want to plan a sustainable charity event, it probably makes sense to find a caterer who is committed to sustainable and eco-friendly practices, such as biodegradable cutlery.
3. Crack open a spreadsheet – it's time to budget!
Not everyone loves the nitty-gritty of budgeting for a fundraising event, but it will be essential for your event's success! Otherwise, you run the risk of eating into money that was donated for other purposes, which is not a great look.
It's important to consider a range of costs, including what would happen if there was a last-minute emergency (or lockdown!)
Other things to keep in mind:
Venue costs
Entertainment
Decorations
Catering
Ticketing fees – and whether you'd like these to contribute to a good cause as well.
Google Sheets is excellent for this as it allows you to create and collaborate on online spreadsheets in real-time and from any device.
4. Selecting a date and venue
These decisions will depend on a lot of factors, including the type of fundraising event you are hosting. Some things to consider:
School holidays
Weather – especially for events outdoors, such as a fundraising swim
Business schedule – if your charity event is going to fall during your busiest week of the year, it's going to be pretty hard for staff and volunteers to enjoy themselves and give it their full attention.
Important cultural holidays and days of remembrance or mourning – make sure you take each and every holiday into careful consideration when planning your event.
Local events already occurring in your area.
5. Recruit sponsors
Having sponsors for your charitable event is a great way to subsidize costs, but they can be hard to find. Businesses often love the opportunity to support a worthy charity in any way they can, whether that is monetary support or providing their services at a discounted rate.
It's always a great idea to seek out local sponsors who want to have a direct impact in their community, or businesses who are aligned to your cause and able to provide useful resources – whether that is a venue, a food provider, or a corporate sponsor.
6. Listing your event
You are going to need a way to have tickets and list the event, making it easy for people to book their place.
If your event is charitable in nature, it makes sense to look for a ticketing platform that is using booking fees to do good.
For this we recommend using Humanitix as they can help you list your next charitable event. They are also 40% more cost-effective for fundraisers and non-profits. In as little as two minutes you can make your event live, delight your guests, and change lives through supporting education projects. Plus, it's easy for guests to make a charitable donation with their ticket purchases. Humanitix also provides the ability for guests to make donations at checkout with automatic deductible gift receipts. This means you can start fundraising even with ticket purchases!
7. Market and promote your event
It is important to know who you want to attract to your event, which will go back to the purpose we discussed in Step 1. Are you looking for generous philanthropists who really enjoy the opera? This will probably require a different approach to marketing than a charity football event.
Develop a marketing strategy that utilizes social media, email marketing, and other forms of advertising. Make it consistent with your company values and voice.
8. Decide how to accept donations
With cash on the decline, it's probably smart to have an alternative way of collecting donations.
One way is to ensure you have a way of taking mobile and digital payments at the event. Another is using a ticketing platform that allows guests to make a donation at the time of ticket purchase (again: Humanitx can help with that).
9. Lead staff and volunteers on the day
Ensure that set-up and the function goes smoothly by delegating clear tasks and defined roles to those helping out on the day. Be cognizant that volunteers have given up their time for a good cause! Ensure there is someone always around to help answer questions and address any problems that arise on the day.
10. Prepare the Venue
Make sure that everything is set up well before the fundraising event is due to start. Planning this normally takes longer than anticipated!
Confirm catering, media attendees, and any extra items that have been booked, such as live entertainment. Also, confirm all permits and licensing, and if you are at a venue with neighbors nearby, it can be a good idea to let them know there will be some noise from an event that night.
Tips and reminders for planning a successful charity event.
Have a follow-up plan: Never underestimate the power of a good 'thank you' note. This applies to both attendees and volunteers, and of course any sponsors. If you can, use this as an opportunity to get people on a mailing list so you can share the results of your fundraising efforts, and get people to come to more events in the future.
Accessibility: It's important to consider making charitable events accessible. This includes choosing venues that are accessible with options other than stairs and ensuring your venue is near public transport. Also, make sure to ask guests about their accessibility requirements in the invitation.
Have fun! After all the hard work, make sure you get to enjoy the fundraising event, meeting with like-minded people who have gathered to try and make the world a little bit better.
Oh, BTW…
When planning your charity event, consider running a 50/50 raffle!
Raffles are another great way to fundraise, however, managing payments, tickets, and registrations is no easy feat. Fundraiser raffles can be directly in support of your hosted events (both onsite and/or off site (aka: virtually) along with stand-alone, making for a great campaign within a campaign
Here is where RafflesNow comes in, offering a self-serving mobile 50/50 raffle fundraiser platform that is accompanied by incredible tech and live support for if and when you need it.
With a 5 minute setup & PCI-compliant payment process, you can host, collect and manage payments simply & securely. No risk. No worries. Donors can also spread the word about your 50/50 raffle to help raise awareness and drive more donors.
Having a tag line that reads: Do Good. Have Fun. you can be confident in knowing that RafflesNow is in it for the right reasons.
By offering an engaging and experience like approach, the goal of RafflesNow, through the use of technology and modern day methods is to aid and assist charities and nonprofits alike with the hosting of successful, safe and secure mobile 50/50 raffle fundraisers…all while making fundraising both fun and exciting again for both the host and donors.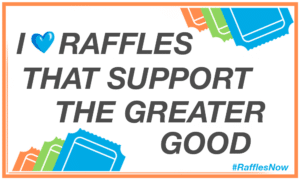 RafflesNow is proudly made available on both the App Store and Google Play:
RafflesNow is also available "Online" for those who prefer a desktop-based experience (this option is also mobile friendly):