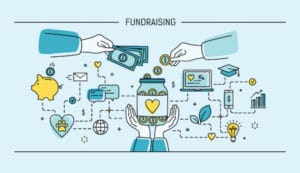 One of the best ways to add value to your fundraising event is to have a supplemental online fundraising strategy. With the help of online fundraising platforms, you can not only increase donations from those in attendance, but you can leverage the power of social sharing, a.k.a. Peer-to-Peer fundraising, to gain access to a larger audience, not at the event.  
This is possible when you use social media platforms and fundraising apps, like RafflesNow,  as one of your fundraising tools. For example, a popular way that many nonprofit groups use to attract donors is by using text-to-give services like texting a link to a donation website. This link can be sent to friends or family and if these friends do decide to donate, they will be able to do so through a text message sent to their cell phone.
Additionally, one of the most common fundraising ideas that's easy to implement and garners major excitement from attendees and your social network are mobile 50/50 raffles. 50/50 raffles collect donations and at the end of the raffle period, one winner is selected at random. The winner and the charity then split the winnings, 50/50. By incentivizing donors with the chance to win themselves, 50/50 raffles tend to be very successful and add significant excitement to those in attendance because it's an "event within an event". 
To further market your online fundraising efforts to attendees, charities often rely on QR codes that are strategically placed throughout their in-house event to help attendees access a donation page from their phones. Simply place the QR Code at the registration table, post it next to the silent auctions, use a table tent, hang on restroom doors and of course, make sure they're visible at the bar.
Online fundraisers have become increasingly popular with nonprofits because they allow for a nonprofit group to leverage its social networks and its already established networks of supporters. In order to make sure that you are getting the most from your online fundraisers and that you are making the most profit for your organization, it is best to take advantage of the opportunity that technology has to offer. This allows nonprofits to utilize the power of technology and to leverage on its already-established networking ability while also allowing them to reach out to a larger number of individuals who are eager to help.